Atex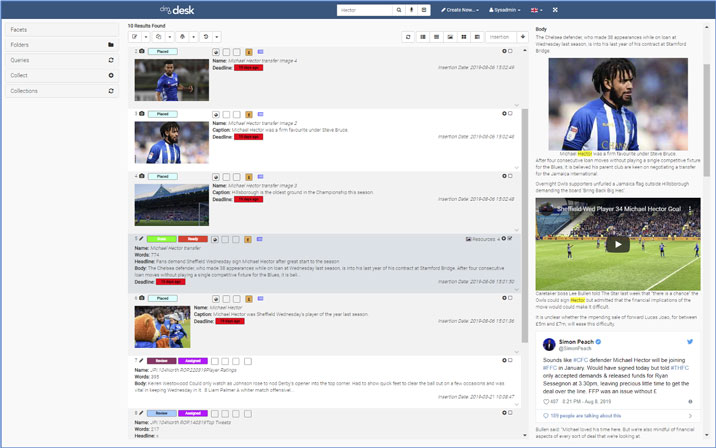 Atex, headquartered in Sweden with offices worldwide, is a leading software company selling solutions for the media industry.
We develop smart digital solutions that make a measurable difference and enable our customers to streamline operations and optimise their digital strategy. Atex supplies some of the largest media groups in the UK and Ireland, like Archant, DC Thomson, DMG Media, Independent News & Media (Ireland), Jewish Chronicle, JPIMedia, The Irish Times and Tindle Newspapers.
Desk
Desk is a web-based solution to manage the production of digital and print publications for newspapers and magazines. News and media organisations are using Desk to build both their print and digital publications from a single browser-based environment.
Desk enables the whole content production lifecycle via customisable workflows, picture desk functionality, video management and a dynamic metadata management framework with automatic content tagging features.
Cross Advertising
Cross Advertising is a cloud-based solution providing end-to-end multi-channel advertising management covering the whole advertising process from sales, CRM and booking to production and invoicing.
Changes in the consumption of media, increased pressure for targeted advertising, understanding of customer data and the unpredictability of the market are pushing media houses to create an agile way of working. Thus, media houses are forced to move from publishing to cross-media industry with a focus on customer service. More complex product and service portfolios and smaller revenue sources are pushing firms to establish new types of industry networks to cut costs and to beat increasing international competition.
Atex Content Engine
Atex Content Engine (ACE) is an API-first, multi-channel content management system, developed by Atex, building on 20 years of experience of software development for the media business, to let publishers enjoy the many advantages of the headless CMS architecture.
The API-first architecture of ACE allows organisations to use their preferred frameworks and programming languages, treating the CMS as just a content repository, while also providing components to easily get started creating applications in Java.
ACE was designed from bottom-up to be a truly headless content management system with feature-rich content creation support. The data model is flexible and extendible, enabling the transforming and composing of data, which results in high reuse of data. New content types can easily be created and added to the model. Developer friendly, Atex provides developers with SDK for Java and React clients and a UI library to develop custom widgets.