Atex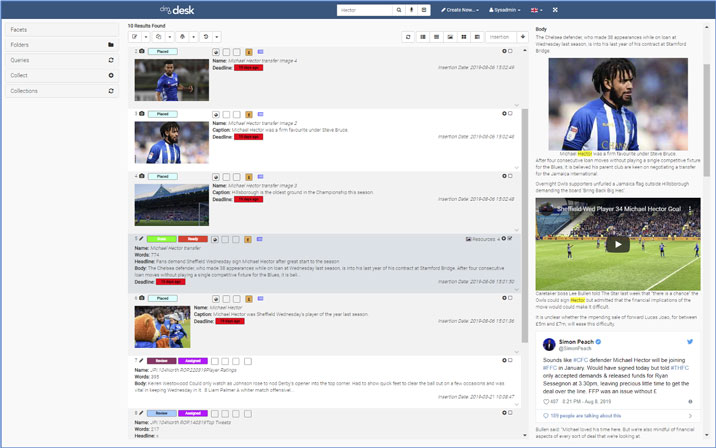 Atex, headquartered in Sweden with offices worldwide, is a leading software company selling solutions for the media industry.
We develop smart digital solutions that make a measurable difference and enable our customers to streamline operations and optimise their digital strategy. Atex supplies some of the largest media groups in the UK and Ireland, like Archant, DC Thomson, DMG Media, Independent News & Media (Ireland), Jewish Chronicle, JPI Media, The Irish Times and Tindle Newspapers.
Desk
Desk is a web-based solution to manage the production of digital and print publications for newspapers and magazines. News and media organisations are using Desk to build both their print and digital publications from a single browser-based environment.
Desk enables the whole content production lifecycle via customisable workflows, picture desk functionality, video management and a dynamic metadata management framework with automatic content tagging features.
Cross Advertising
Cross Advertising is a cloud-based solution providing end-to-end multi-channel advertising management covering the whole advertising process from sales, CRM and booking to production and invoicing.
Cross Advertising integrates with print production systems, supports direct inventory check and booking on the most popular ad servers, and provides a complete invoicing workflow with the preferred finance platform.
Kayak
Kayak is a comprehensive system for managing subscriptions and distribution. It is a tool for managing customer service, invoicing, accounts receivable, marketing and sales related to printed and digital products and services. The mailing and distribution, including interfaces, of printed products also ensure a well-functioning logistics chain. In terms of digital products, solutions related to managing read permissions, including interfaces, provide the opportunity to take advantage of Kayak's centralised customer database in targeting and ordering various content.
Atex Content Engine
Atex Content Engine (ACE) is an API-first, multi-channel content management system developed by Atex, building on 20 years of experience in software development for the media business, to let publishers enjoy the many advantages of the headless CMS architecture. Developer friendly, Atex provides developers with SDK for Java and React clients and a UI library to develop custom widgets. The API-first architecture of ACE allows organisations to use their preferred frameworks and programming languages.