Readly UK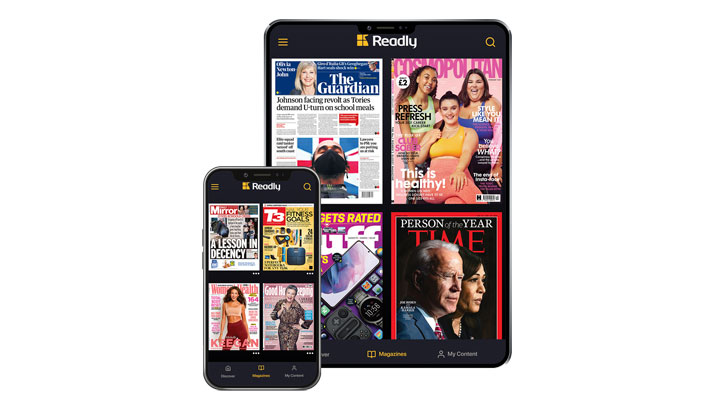 Readly is the European category leader in digital subscription services for magazines and newspapers providing "all-you-can-read" access to a portfolio of over 5,000 titles and approximately 140,000 issues.
In collaboration with around 800 publishers worldwide, and with users in more than 50 markets, our purpose is to bring the magic of magazines and newspapers into the future, enabling the discovery and survival of quality content.
Readly's portfolio continues to grow, reaching over 5,000 titles, with a catalogue of around 140,000 issues. Readly's data shows that more than 99 million digital magazine issues were read on the platform in 2020.
The benefits for consumers
A Readly "all-you-can-read" subscription of £7.99 a month, gives subscribers unlimited access to a massive range of magazines and newspapers so users can be inspired, entertained, and educated.
The app has an average rating of 4.7 across Google Play and App Store, a proof point of the premium user experience.
Popular features include Search, Article feed and the Discovery tab. Readly is continuously developing its offering. Recent innovations include Readly Articles, a curated feed selected and published in a separate section on the app and Readly Exclusives, titles found only on Readly.
The benefits for publishers
We collaborate with publishers to benefit their business through:
1. Data & Insights: a wide range of data on readers' behaviour such as what subscribers read, when they read and for how long is shared with publishers. Readly has developed a new analytics tool called Readly Insights, based on 32 billion data points so publishers can better understand reader behaviour and preferences. The valuable data opens up new opportunities for publishers to become more data-driven, adapt content in both print and digital, optimise magazine ads and further develop their digital strategy.
2. Revenue share: Readly gives more than 50 percent of the revenue back to publishers. Win, win.
3. Increasing reach & boosting circulation: Reaching new customers and extending audience reach to target an audience outside of a title's home market. Furthermore, Readly enables publishers to increase their top line circulation figures, since issues read on Readly count towards ABC and IVW figures.
Who we are
Readly started in a small town called Växjö in Sweden in 2013 and has grown to four offices in Europe, working with 800 publishers around the globe. Our key markets are Sweden, the United Kingdom and Germany. We are also active in Austria, Switzerland, the Netherlands, the United States, Ireland, Italy, Australia and New Zealand and available in 50 markets. In September 2020, Readly became a listed company in Sweden.
Our purpose is to Bring the Magic of Magazines and Newspapers into the Future, enabling the discovery and survival of quality content.