BlueToad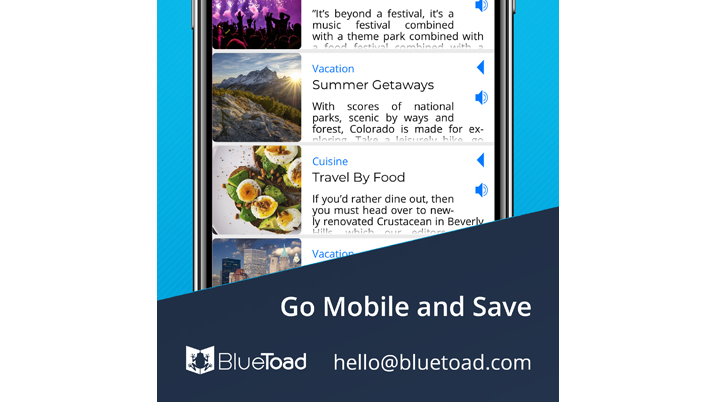 BlueToad Content Delivery Platform
For more than a decade, BlueToad has been the digital content partner of choice for thousands of publishers across the globe to create and monetise beautifully responsive digital editions and web content. With an office in London, BlueToad is committed to providing its award-winning solution to publishers in Europe, including its privacy compliant and search engine optimised offerings.
BlueToad works with all types of content, including magazines, retail catalogues, circulars, marketing materials, business documents and website content.
The BlueToad Platform helps customers:
Take control of their brand and content distribution strategy without relying on a third party aggregator or newsstand application;
Deliver engaging mobile optimised content to readers;
Monetise content through subscriptions and digital ad units;
Launch single, multi-pub, or website applications for web and native iOS or Android; and
Incorporate cutting edge technology like audio articles and topical content channels.
BlueToad's Responsive Platform for Mobile and Desktop
As the majority of consumers now view content from a mobile device, translating content well to the small screen is mission critical to a successful digital content distribution strategy. Built on the philosophy of helping you "Do More With Less," the BlueToad Platform is a mature, industry-leading product designed specifically to create rich and engaging mobile editions from print-ready PDFs in just three business days. BlueToad mobile-optimised content can include:
Images and videos;
YouTube, podcasts and RSS feeds;
Audio articles for traveling readers; and
Topic themed editions.
The BlueToad platform has been statistically proven to dramatically increase mobile reader engagement and presents publishers with unique and valuable branding and monetisation opportunities. It also offers an alternative PDF-free publishing interface called PubPad to build and deliver fresh responsive content to readers as an edition or stand-alone website. The BlueToad platform has been honoured with a Gold American Business Award, two Silver Davey Awards and one Silver W3 award.
The BlueToad platform is built on HTML 5 and native app technologies and offers a variety of unique monetisation opportunities. Content is hosted and backed up using Amazon Web Services and distributed world-wide using a content distribution network. The platform is compatible with many third-party services, such as fulfilment solutions, content management systems, analytic services, advanced marketing automation solutions, and ad management platforms.
Contact BlueToad today to learn how we can help you with your digital content strategy. Just mention "InPublishing" for special pricing.