Cafeyn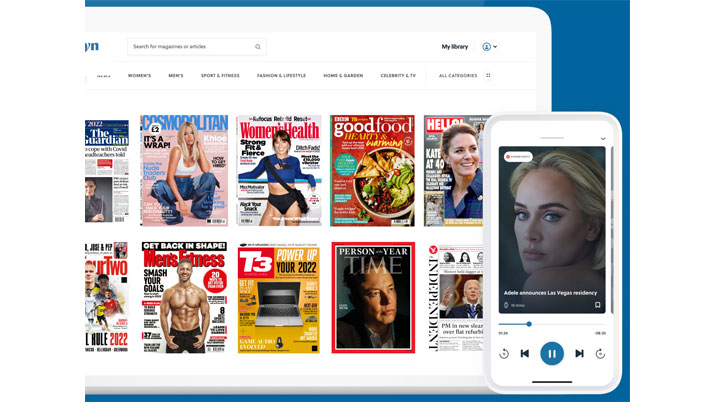 The Cafeyn Group is the leading press platform in Europe, offering seamless access to local and international content in different formats on all devices.
Cafeyn has more than 2.5 million users across France, Belgium, The Netherlands, United Kingdom, Luxembourg, Italy, Canada, Ireland and the United States.
Cafeyn has established collaborations with more than 500 publishers and content providers worldwide offering more than 2,500 newspapers and magazines, as well as newsfeeds and other pure player content brands, including: Bloomberg Businessweek, Time Magazine, The Guardian, Paris Match, Libération, Elle, de Volkskrant, Süddeutsche Zeitung.
Since 2006, the company has scaled rapidly both organically and via acquisitions of companies like MiLibris (FR), Blendle (NL) and recently Kidjo (US) with offices in Paris, London, Tangier, Montreal and Utrecht, employing over 200 people.
In addition to its Cafeyn and Blendle direct to consumer brands, it is distributing through multiple long term partnerships with Albert Heijn, Bouygues Telecom, Canal+, Cdiscount, Free, O2, SFR, Tango, Telus, Three and Vodafone. The platform rates best-in-class (>4.5* on average) continuously adding new features like Audio and Collections to offer the best user experience. Find out more at cafeyn.co.
Our Product
For £7.99 per month (first month free of charge), Cafeyn gives users access to hundreds of newspapers and magazines all in one app.
Through this subscription, users can access full editions of newspapers and magazines, articles, digital newsfeeds, audio content and editorially curated playlists and collections.
The rich mobile optimised experience makes reading comfortable, while editorially curated content and platform personalisation means users see content that interests them the most.
Benefits for Publishers
Cafeyn's publishers are partners; they work collaboratively to help them achieve their objectives while:
Increasing Brand Reach and New Audience: Through Cafeyn, publishers can connect with brand new audiences, extending their brand reach and awareness.
Increasing Revenue: Publishers can earn additional revenue through Cafeyn, being rewarded for every publication read.
Increasing Circulation Figures: Cafeyn is fully verified by ABC so all circulation figures can be submitted with your topline figures.
Providing Valuable Data & Insight: Cafeyn provides valuable data and insight to publishers, helping them get to know their audience and thoroughly understand their performance on our platform.
If you'd like to work with Cafeyn or find out more, please get in touch with Charlotte today on c.varnham@cafeyn.co